Opening Event
July 22 | 7pm-1am
Gallery Hours
July 23-24 | 11am-4pm
"*Challenge 2: Make something old new"
<<View all Challenges & Participants
Collaborators have a maximum of 48 hours to respond to a challenge once it has been issued. Scroll down to check out the submissions for the challenge listed above.
KINDER GESCHICHTEN
Challenge #2 Make something old new
I'm normally an early riser, but now that I'm waitressing I get to bed a whole lot later than I used to, so I would love to sleep in (to like 8am!)! In my bedroom I get the morning sun and I had these paper thin green and white checkered curtains, more for esthetic value than anything really. I though about getting black-out curtains, but my mom had these old curtains that used to be in the living room she was going to cut into rags. I think it's a good time to give these curtains a new home, and get some sleep!
With this ring…
The words in this challenge reminded me of the wedding tradition for the bride to wear something old, something new, etc. Marriages take work. There is a fine balance to maintain your partnership amidst the constant interruptions of modern life. Making an old marriage feel young is part of a constant evolution.
Palm Tree Sprouting in Old Sauerkraut Jar
New life – into old 'used' glass jar
Life in Technicolour
Boring old white daisies made NEW! (The old food colouring in the water trick…)
A favourite old to new standby! Vintage designer consignment shopping…
Dough, Hook
VonTrappppppppp
Stylus(h)
Old shoes, new drawing.
Make Something Old New
face
Old –> New: New Old Ride
Challenge 2: Make something old new
Roses are still Red
Inspired by retro "Happy Housewife" ad media. Old style ad with a modern twist. "12 x 12″ collage.
old–>new
New then old then new then…
(re)collating the past for the present
a rescued book from 1911 brought back to life for a new generation.
save electricity, save the planet, save our history. read an old book.
Opening up an old brow
Gash, pre-glue – Toronto Western, June 10, 2011, approximately 7:21pm ET
New 'Do
Old is the New Hat
1 pair of old pants that sadly no longer fit
dylon dark indigo dye & oil skin solution
cut & sew just in time for summer
"Make something old new"
old tricks made new|the way to a man's heart is through his stomach
create recipe, bake bread, illustrate recipe card to share, make spicy dinner for boyfriend. 
Ctrl-Alt-Delete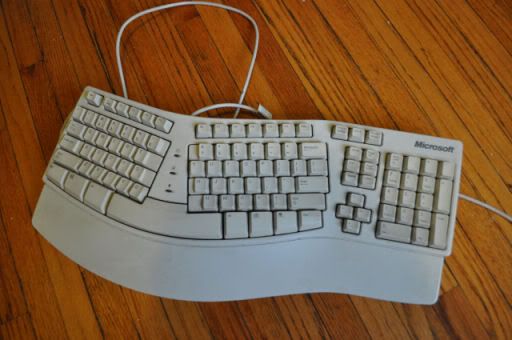 I spilled an entire cup of iced tea over my beloved old keyboard, rendering it useless. Well, almost useless.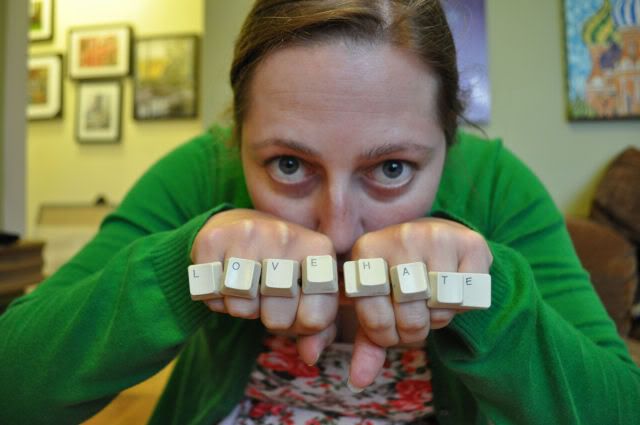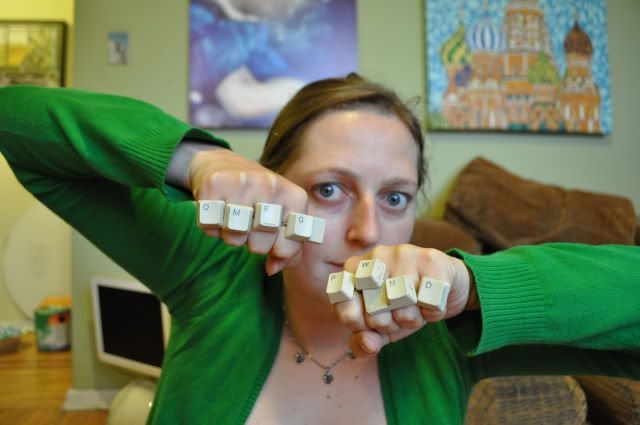 new(s)
Newspaper from Feb. 13, 2010. Mushrooms from the forest.
Charles Brown // Amazing Grace // Re-Worked
Somethings Grow: Temporary Life-space Installation
I went to see an independent film (CHOCH) yesterday and since it was the last screening I asked the writer/director, Brendan Prost, if he would mind if I appropriated the old tickets for this project. Intermittently tree-like, the forms of the installation are reminiscent of their material origin. The film itself deals with ideas of personal convolusion and the festering, colonizing nature that thoughts regarding social adversities can have. Personified here, the tickets are in a confused state of remembering what they were while exploring new places, interactions and forms of existance; echoing aspects of the central character's journey. Somethings Grow: Temporary Life-space Installation recreates aspects of a previous experience built from something old.
Choch itself is a great piece of work, for more info on it, check out: http://brendanprost.com/choch.html
a new addition to an old project
Marilyn
Keep watching…
Art turns old new!
Three T's in One Hour
Having requested my son's purging of his t-shirt drawer, they were heading to the studio for use as painting rags.  I scavenged three of them, cut them up, and reassembled them into something new.   After the photos were taken they returned to the rags bag, studio-bound. 
old watch, new owner
Found this watch on the ground, pretty snazzy
I drew it for you
ben's old hand-me-down books are new to cousin max
something old is new
old archie comics are always new for someone
a famous self portrait, re portraited
old classic, new title
Roses are still Red

Work up for "12×12″ collage and installation piece.
Throw Rhymes

Make something old new.  An old book of poetry by Robert Browning, the poem "My Star" reworked and combined with a new combination of ideas.  What is older than the stars?  What is newer than our creativity, impulses, and ideas?
All that I know
Of a certain star
Is, it can throw
(Like the angled spar)
Now a dart of red,
Now a dart of blue;
Till my friends have said
They would fain see, too,
My star that dartles the red and the blue!
Then it stops like a bird; like a flower, hangs furled:
They must solace themselves with the Saturn above it.
What matter to me if their star is a world?
Mine has opened its soul to me; therefore I love it.
Make something old new
old toy, new game
The next morning, it was new…
Bare patch of garden
Hens & Chicks from Home Depot
Old story now new
failschool
here's a song fragment that I started sometime around 2008 that I went back and brought to a slightly more "finished" state. It was called 'failschool' because I often would forsake completing grossly overdue work in order to make silly music on garageband. Miraculously, I convocated on wednesday and am r totally now graduates. Please enjoy
QRnew
From 656 pages to 1. Scan me!
Remaining 655 pages.
Upcycling: Ski Bums Tee to Necklace
Making something old new brought three things to mind: upcycling, giving my things away, and shopping for vintage clothing. As tempting as shopping for new-to-me clothing was, I decided to upcycle an old t-shirt. I've had this shirt for about 15 years but haven't worn it in ages. The necklace uses only the body of the shirt – I still have the ski bum graphic for another project.
"Preloving" beautiful pieces ;)
Look! A couple of stiches and it's now it's a beautiful one-of-a-kind dress! Perfect for summer. Hurray to animated GIF's (again)! They are makin' a comeback – woot!
Connection
new restaurant
The Old Me(s) and The New Me
I decided to do a photomontage of old pictures of me and my old boyfriends, while the new (single) me looks on. Not only am I taking old photos and making them new again, but I am reflecting on my old self at different points in my life where I was not this preson I am today.
ArtStar
like this.
Photo of David by David Gaya
New Man
Back to Life
I was drawn to the old worn out  pot i found buried under weeds in our new backyard.  What better way to make something look and feel new than with life, colour and growth.