Opening Event
July 22 | 7pm-1am
Gallery Hours
July 23-24 | 11am-4pm
"*Final Challenge: Leave behind something special for someone else to discover"
<<View all Challenges & Participants
Collaborators have a maximum of 48 hours to respond to a challenge once it has been issued. Scroll down to check out the submissions for the challenge listed above.
In case of Bieber related fires….
Me
Hello there, Medicine Hat
The flag reads: TAKE ME from: Stephanie M
(and includes the website to the (re)collection project).
Cupcake Surprise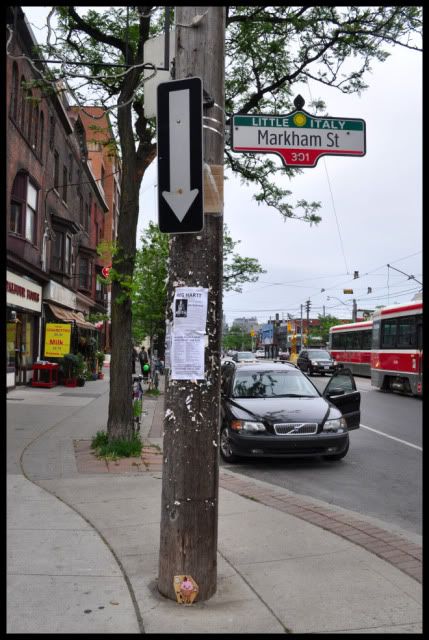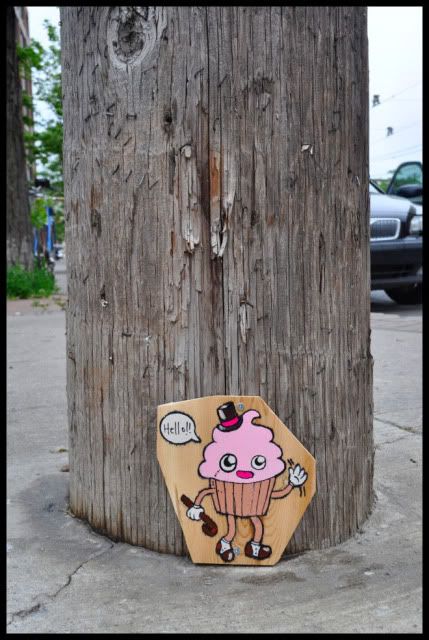 The back stairs at Mixed Greens
Anonymous Art Offerings
You are my co-conspirators. This is the beginning of many "anonymous art" projects leaving art behind for others to discover in my community. Cultivating creative acts of anonymity on Venice Beach, CA. We made charms and gave them away to children on the boardwalk celebrating Independence Day. It was an amazing experiment involving contemplation and dialogue regarding perception, anonymity, peaceful communication, improvisation, safety, celebration, aesthetics, inquiry, curiosity, inhibitions, culture, documentation and always joyful play. If you feel inspired send us a post from your 'hood.  http://www.facebook.com/pages/Art-Anonymous-Los-Angeles-CA/201764556541114
We will miss you. xoxo Rod and DRE
Discover
I am leaving this behind in hopes that I can share with you and 4 friends a little taste of what I experienced during the Moments Intercepted project.
In this bag there are 5 suggestion cards, each with a fun or thought provoking task written on them.  Choose a card and complete the task, then pass the bag along to a friend to do the same.  I guarantee at the very least you will smile, perhaps even laugh or discover something about yourself in the process.
1-Wear a color you never wear.
2-Name 5 things you are thankful for.
3-Build something.
5-Sing in the car.
6-Do that thing you've been thinking about doing all day.
I left this on the table at one of my favorite restaurants.
Goodbye Birdie
A good friend and I found several bird pencil sharpeners a few years ago in a thrift store and couldn't pass them up.  We each bought a few of them , then another shopper scrambled to buy the rest – hoping we were on to something. I shared one of the birds with Denise and saved the last three. I'm not sure what it is about them, but the birds make me smile.
I separated my trio tonight, leaving the odd duck next to a children's hair salon with a note. I almost stayed to watch, but I hope the mystery is better.
leaving my heart behind
An artist print in a gift bag on a bench in my neighborhood park.
I need more time to work in my studio
Taking Communal Gardening…Literally
Les fleurs P Coq
Beautiful.
After my husband and I created this video for a local animal shelter fundraiser, I saw firsthand the number of pets relinquished on a daily basis.  Instead of leaving an object to be found, I'd like to recognize the many beautiful, special animals in this video that are being left behind that have yet to be discovered.
Something left for me
This baby blue jay appeared at the front door last night.  He can't seem to fly yet – thankfully the blue jay parents seem to be around.  He is still here today playing in the front.
After deciding to use the little Blue Jay for this challenge, I was reminded of the 4 kittens dumped around the house a few years ago.  Unfortunately I don't think any of them made it.  After a few days of calling around to make arrangements and finally finding a source to foster them, they disappeared.  Last week we had a friendly siamese kitten hanging around.  I am worried about that little guy, but I don't want him getting the baby bird.
Nothing gives me quite so much joy as when people tell me they've had their pets spayed or neutered. Bob Barker
A HIDDEN MESSAGE
Questions Never Asked
There could be more —- but there is no more —
ran
OUT   of   &   INTO
in
No  TIME.
Special Delivery
Neither rain, nor snow, nor sleet nor hail (nor heat)….a special package to say thanks to the letter carrier today.
Sad Face
Last but not Least
So I was in Missisauga when I recieved this challenge, and was about to head back home to Scarborough. I thought it would be easy just to leave little tidbits behind on my journey home. I took 10 note-sized papers, and did doodles and notes on them, all with my blog address, some with my email as well. I was hoping for people to come along and find them on buses, trains, benches…  Each one I folded up into origami, or just random shapes… some I gave to friends to scatter downtown and in Pickering. They say "OPEN ME!" or "UNFOLD ME!" or something like that. Here's snapshots of what some looked like folded and placed, or opened up so you can see them.
if any of these put a smile on someones face, or made any kind of change at all in anyone's day, that's special enough for me. That's all I want for my art and my life in general. If you found one of my notes, and are reading this now, thanks for investing your time in the little things, and letting your curiosity find me. Hopefully we will cross paths again one day.
I am gonna miss these challenges. If you'd like to contact me about my work or me in general email me at carolinekings08@gmail.com
ARTSTAR
Happy Birthday, Tony & Kathryn!
Remember Saturday, April 24, 2004, 2:39:26 AM?
For those who look closely and admire the simple joys.
Waiting for you.
you'll find out after I die…
When a dear friend passed away a few years ago, we were shocked to discover, at her funeral, that she had been lying about her age. Shocked, and amused…
So I decided to come up with a great big lie of my own, and the truth will be revealed at my funeral. I give it to you in all exclusivity… I'm telling my friends that I'm related to French nobility. At my funeral bash, this should bring a smile to some…
Final Challenge: Leave behind something special…